Locally owned for over 10 years, Clarke can paint your home inside and out in Portland, Cape Elizabeth, Falmouth, Freeport, and surrounding areas.  Contact Us today for more information.
Ranch House Exterior Preparation and Repaint
This house needed extensive scraping and sanding on the body and trim to get it ready for two coats of Sherwin-Williams solid stain. The trim received two coats of white semi-gloss.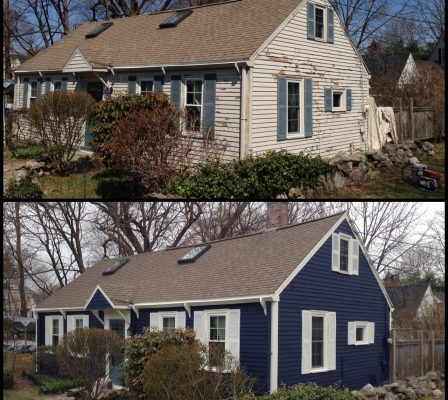 Children's Museum of Maine
What a fun project! Clarke Painting restored the ceilings and walls in the Children's Museum of Maine located in Portland, ME. This was accomplished by working overnight so that they could keep their normal hours of operation.
Renovation of a Mudroom and Garage
We renovated a dull mud room and a dark one bay attached garage. The mud room received all new tile, trim, doors, and paint. The garage floor was completely rebuilt to allow for hardwood flooring. The garage is now fully insulated. It has a new ceiling, new lighting, new windows, and new floors. The laundry room is also updated with new hardwood floors and lights.
Interior Progress Photos of a Portland Apartment Renovation
Skim coating interior walls, caulking and priming, application of two coats of interior eggshell paint on all walls. Two coats of semi-gloss to finish paint on all trim.
Exterior paint job in Portland, ME
Replacement of Cedar clapboards, caulking gaps and nail holes. Finish with two coats of solid stain and two coats of semi-gloss finish paint.
Complete Interior Remodel
Apartment was completely renovated top to bottom. Sheetrock was replaced where necessary. The walls were skim coated and the trim was replaced. New tiling was installed in both the bathroom and kitchen. Once tiling was completed new cabinets and appliances were installed.
Tate House 1755
We are oil priming the ceiling and installing one finish coat. The floor is also being painted. This is a historic home in Portland. The last four photos are of the completed ceiling as well as progress on repainting the floors of the Tate House.